Less is more. We know that saying in relation to art. Specifically modern art. What if that saying applied outside of the world of art? I think we could all learn something, especially when it comes to travel, from this saying. How many times you visited Niagara Falls?
Its not uncommon for us to get sucked into the "check list" style of travel. While in my opinion there is nothing wrong with this style of travelling, I do believe that it doesn't do the destination justice. I believe that we would enjoy our trips more if we took the time to enjoy them. Sounds simple, right?
Yet, how often do we see tour buses, off loading a group of tourists who simply snap a picture of the view and head straight back for the bus? Sure, we all have a bucket list. Things that we want to see at a certain destination, but I believe that the approach can be changed, or at least improve. Instead of packing several things into the days itinerary, wouldn't we be able to enjoy the trip so much more if we use the approach "less is more" and simply put three things in the itinerary? In the same sense of "less is more", enjoying three activities to the fullest at a destination instead of piling on several can help us enjoy the trip so much more.
Here is where the Niagara Falls Region comes in.
The Niagara Region is a perfect blend of country living and the city, making it the perfect get away.
Wineries, Amazing Hotels, Great People and lets not forget the Niagara Falls… What does this region not have?
So how do we make the most of a trip to the Niagara Region? Below are just some of the events that may get your attention. Plan accordingly!
April – Easter – follow this link to get an idea where to lunch and dine on Easter weekend. And don't forget to have a reservation!
June – Comic Con is a popular event that takes place on June 3 -5 at the Niagara Falls Convention Centre, Niagara Falls Canada, just steps away from the majestic Falls. This popular event features more than 200,000 square feet of exhibitors, comic books, movie cars, cosplay contests, celebrity autographs and photo-ops, a video gaming arena, Falls Horror Fest and so much more!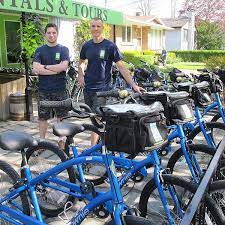 As soon as you wish – If you love your bike and a passionate cyclist – you'll appreciate this useful info – here.
August – The 28thedition of the Canada's largest multi-sport event, will take place in Niagara from Saturday August 6thto Sunday, August 21st, 2022. The Niagara 2022 Canada Summer Games will celebrate the wonder of sport alongside arts and culture. The Games will honour Niagara's Indigenous communities and showcase a remarkable heritage of hard work and innovation in one of the world's most awe-inspiring destinations. With world-renowned hospitality, the people of Niagara will welcome visitors from across the country.
October 23, 2022 – One of the oldest and most scenic racecourses in North America following the Niagara River and ending at the majestic Canadian Horseshoe Falls. The Niagara International Marathon is truly international with the start in Buffalo, NY and end in Niagara Falls, ON. The Half, 10k, and 5k distances all start and end in Canada.
With new Hotels and Spas opening this year, the Niagara region is a must for anyone visiting the area!
And one last tip – here is a great place to stop for lunch, dinner or afternoon tea – Old Stone Inn.
And last one – here are some VERY useful links: