When I visited Qingdao, China on my first trip, right from the first day, I came up with ideahat I have to come again with my whole family. Children must see the different world, different culture and traditions,..show to them that not the whole world speak English…That there are places where you have to struggle with comprehention of foreign language.
Our trip to China was in November 2014. First of all, children are small enough, that in many placetickets either free, or half-priced, and also large enough to remember the trip and apreciate the excitement of travel.
We bought our airflight tickets, and booked hotels during the summer, when the prices were extremely low…Also, the High Travel season in China concidered in Spring and Autumn: August, September and October. We decided to travel in November, enjoying low volumes of tourists, while catching Indian Summer feel. Although Beijing weather was getting cold at nights, during the day it was just perfect, with clear bright skies, and no wind at all.
Traveling in Beijing is easy, inexpencive and fast.
Subway ssystem is clean,and  easy to navigate, almost everywhere signs in Pynyin, so it's easy to comprehend. Beijing Subway system is fast and efficient , platforms are equipped with mostly glass walls, and gates to access the tracks, ensuring safety, that none will fall on tracks.
#1st Day
We hired a taxi (600-700RMB for round trip from downtown) to visit China Great Wall section at Mutianyu. If you want to take a skylift and on the way back toboggan, it's better to take the furtherst skylift, so while on the wall hiking you will be decending to toboggan ride, and wouldn't have to come back. Views at Mutianyu Great Wall were breathtaking, with clear sky and visibility to thousands kilometers…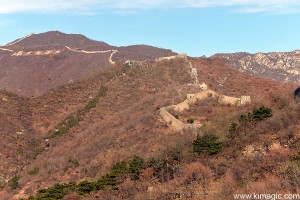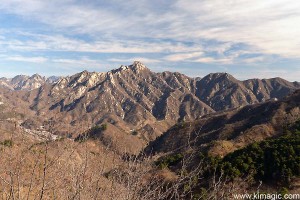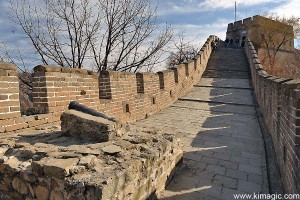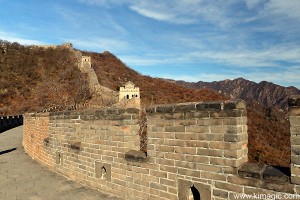 We spent almost whole day at Mutianyu, enjoying panoramic views, and warmth of Autumn Sun,and tranquility of surrounding mountains.
One of the practicalities came up to my mind is to bring some snack, and a bottle of water with you on the wall, and keep yourself hydrated and energised, so you can enjoy more time on the wall.
#2nd day we visited Forbidden City and Wangfujing Street
Forbidden City is a must place to visit., although after first half an hour it's boring to kids. We found the clock museum, with enormous collection of mechanical clocks from miniature to gigantic waterclocks, worth visitng to return an interest of kids.
Wangfuijing Street has an interesting part as Wangfujing Snak Street where you can encounter weird snacks, like fried scorpions, starfish, fried seahorse, lizards…
That evening we spent in Red Theatre, watching performance on Shaolin…Performance was well horeographed, and performed.
Our last day in Beijing we were busy visiting Temple of Heaven.